Welcome to My Shop!
My newest book just came out!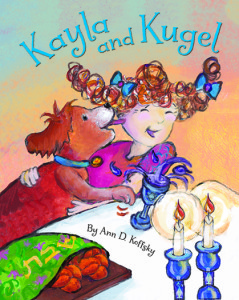 For more info, you can purchase it here.
JUDAIC PRINTS & ORIGINAL ARTWORKS
Standard size, easily framable color prints on heavy stock paper. Each print is signed by the artist. Vivid design and colors make these pieces unique and wonderful additions to any home. Contact me at ann@annkoffsky.com for additional information.

Free shipping within the United States.
For shipping outside the United States, please contact me for instructions.
-Shop for my book "Noah's Swim-A-Thon" at URJ Books.
-Shop for "Thank you for Me" at Jewish Rock Records.
-Shop for some of my greeting cards at Great Arrow Graphics.
– Besides the work you see here, I also welcome private commissions. Contact me if you'd like a custom piece.
-Want FREE Coloring Pages for kids? I send out a FREE page about once a month via e-mail. E-mail me here and write 'Sign me up for FREE pages' in the subject line and I will add you to my list.